One of the first requests, or questions, that I get when meeting with a new client about web design is:
"I want to be able to update the website myself. Will I be able to do that?"
I love that attitude, and love that I can answer yes because of WordPress.
I have been developing WordPress powered websites for the last two years, making it easy for clients to login and update as they see fit.
But it didn't come without some reservations and questions about WordPress. One question that I seem to get is, "Isn't WordPress for blogging?"
No.
It's true that WordPress did start out as a blogging platform in 2003, but it has evolved tremendously into a content management system.
Some may argue with that statement, and one agency actually told me on the phone one day that WordPress was not a CMS and that it never would be.
I think that the definition of a CMS differs among individuals and that it all depends on how you need to use it.
With that being said, let me share my thoughts on why I think a WordPress powered website is a great investment for small business owners.
The Content
When I sit down with clients to map out their website they always want to know how many pages they can have. They already have an idea of important pages, and in some cases, have already developed the content.
The good news is that you can create as many pages as you want! (As long as you have the hosting space.)
WordPress has built in "Pages" that allows us/you to create the perfect pages tailored to your business.
Additionally, WordPress has "Posts" which can do the same thing, or be used as your company blog!
Pages are more for static content that isn't going to change often. Examples of this type of page include:
About
Location
Contact
Services
Menu
etc.
Posts are a good way to keep customers updated through news, pictures, industry topics, and so on.
This is good news, but the really good news is that you can begin to publish pages and blogs yourself with a little practice.
Flexible:
WordPress is highly flexible and the best way that I can describe it is to show you some of my previous projects.
Let's take a look at 3 projects that are completely different but use WordPress to power their website.
Downtown Fort Walton Beach
The first one is Downtown Fort Walton Beach. We utilized pages to organize a Business Directory list of all of the downtown merchants.
Now, no matter what you are looking for, you can easily browse through the categories that we have setup and find the perfect businesses to visit.
Downtown also has many events throughout the year so we needed to add an Event Calendar to keep the community updated.
With a few clicks, the Downtown FWB website can be populated with as many events as they would like.
JP Carducci Inc.
The second website is JP Carducci Inc. Jason and his team are fully equipped for new construction, remodeling and renovation.
When we began designing his website we knew that the focus needed to be on images of recent projects.
So that's what we did!
WordPress has a native gallery system that is used heavily throughout the site. Now we can showcase before and after images, and even capture an entire house building process.
Jazzi Rae's
The last website we will look at is Jazzi Rae's Discount Furniture. As you can imagine, we needed to showcase the furniture that Jasmine carries.
After a few talks about e-commerce, she decided that she didn't want to sell online, but liked the look of an ecommerce site.
So, we built and ecommerce site without the commerce…

We utilized Custom Post Types to create sections for Bedrooms, Dining, Living Room, and Mattresses.
Whether or not the company was adding new furniture or I was, I wanted it to be easy and straightforward.
Check out the sections on the edit page. All we have to do is fill in the info.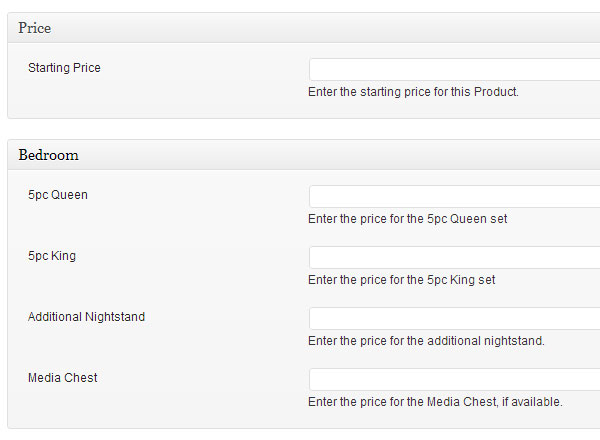 Pretty simple, right?
SEO Friendly
The last thing that I love about a WordPress powered website is that it is search engine friendly.
We can create nice URLs, and organized our content so that it is easier for the search engines to find our content.
There are a handful of great SEO plugins available, and all of my websites come equipped with powerful SEO features.
This especially comes in handy if you are doing any kind of content marketing!
Conclusion
There are many great reasons why having a WordPress powered website can benefit small businesses, and I have only touched on 3 that get asked often.
I have found that small business owners want more control over the design of their website, and want to be able to add content themselves.
They also want to be able to rank really well in search engines, and be found for certain keywords.
If this sounds like you then WordPress is a fantastic way to get the website that you want for your business.
Note: If you are a client of mine…rest assured that your website is powered by WordPress