Your website should support your business...not hold it back.
All software is vulnerable and needs updating. Continually improving your website and online marketing is KEY to staying ahead of your competition and remaining relevant to your best customers.
Maintenance & Updates
Dedicated tech support for your WordPress website which includes software updates, security and performance scans, and website upkeep detailed in a monthly email report.
Consulting & Clarity
Feel like you finally have control over your website, and direction for making it work for your company. Clarity Calls are great for strategy sessions, live editing, or any other type of training.
Support Time
Use your dedicated monthly support time to make requests for things like: Bug fixes, Performance improvements, Content updates, Design updates, Newsletters & more
Your site is critical to your success

Your website is crucial to your business. It generates leads, retains customers and earns you revenue (or at least it should). It's the primary means through which customers, vendors, potential new staff and partners will find you and engage with you. It is fundamental to the success of your business, and you want peace of mind that it will be up and available for your customers 24/7.

All software is vulnerable

Software needs updating. All software. Including the software that powers your website. Every day, we see more websites getting attacked, including the big boys like Twitter and Facebook as well as millions of small businesses sites everyday. It's the nature of the connected world we live in; and unfortunately your website is an easy target.
Can you do this yourself?

Sure. But keeping your website up to date, backed up and secure can be time consuming and a little tedious. Worrying with it takes you away from what you should be doing - running your business and building relationships with your customers. Technology continues to evolve and change; and there is no way you can keep ahead of all the latest trends and developments.

Why you'll want us to do it

We'll do all the stuff you don't want to do so you can just enjoy being a rockstar to your audience. We'll be your Obi-Wan, and you can be our Luke. We will hook you up with an unlimited number of small tasks for your website, whatever it needs, throughout the month to ensure every piece of content and code is perfect.
We support hard-working business owners who
want fixed costs and a reliable web partner.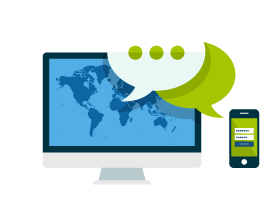 Add on: Social Media Management Package
If you need assistance publishing on social media, we offer a discounted monthly add-on package exclusively for our Customer Care Plan clients. From the content you send us, we will curate 8 social media posts ( one month of content) for Facebook and Twitter. We will pair these updates with the necessary stock images for better engagement.
Like any good lawyer's retainer, your monthly support time is there for you each month to save a place in our queue and a slice of our resources, therefore it does not rollover. You get peace of mind that your requests within that 30/60 minutes of time (depending on your plan) will be get first priority over non-retainer clients.
The whole purpose behind Customer Care Plans is proactive & preventative care. So we hope to prevent anything bad from happening. However, sites get hacked - even the big boys like Facebook and Twitter. In the case your website needs life support, we will be on scene with shock paddles and scalpels ready to operate. We can't promise your site won't be hacked, but we can promise we will do everything in our power to prevent it, and get it back to 100% as soon as possible.
Good question! Content updates and small design improvements are the most common requests we get, however any task that we can complete within 30 minutes is fair game. Adding new features to your website (like shopping carts, membership areas, etc) will likely result in a formal quote as those larger tasks will probably go over the monthly time allotted to your plan.
Even if you aren't making regular changes to your website, there is a lot that happens behind the scenes. WordPress' software, your site theme, and all of the plugins your site is running (average site has 5 to 20 plugins!), are being continually improved by their respective developers. It's critical to keep all the software up to date on your website to ensure your site is functioning properly and stays secure.
For most support requests, email is your go to. However, we know brainstorming and talking through strategy works best on the phone or skype. These clarity calls are reserved for our Premier and Elite plan clients. They help you see the big picture for your marketing and online business. If you get stuck, we can look at your site and guide you through it. We often use this time to get on, share screens and walk you through the issues that are hanging you up.
If you have a larger task that requires more than your monthly time, we'll send you a quote for you to review and approve that will be separate from your plan. We evaluate requests that exceed your time on a case by case basis. Work that goes past your time will be billed at our current support rate of $125/hr.
Although these plans are for sites we build or re-design, we welcome clients who are looking for a long term relationship with an agency.
As long as your website is currently running on wordpress, we can get you setup with a customer care plan!
No. Hosting costs are not included in CCP premiums. Hosting is a separate yearly cost, just like renewing your domain name, that allows your site to be found on the internet. 
Absolutely! We are all about our relationship with you and your business. We would hate to see you go, but we know finances weigh on small businesses, so we don't want to lock you in. Simply request a CCP cancellation via email, and we will immediately stop the next payment.
And, if you decide you need to resume your CCP, we'll be glad to have you back. We're here when you need us.
NOTES:
With the level of service we provide our clients, we can only take on so many websites. Given these limits, we're only interested in working with clients who understand the value their website adds to their business. Hence we have made our website care plans available by application only.
Please review the plans above and use the form at the bottom of this page to get in touch and see if you qualify.
This service is designed to offer you peace of mind and the assurance that you have a skilled partner who can help you achieve your online objectives.
*Unlimited small tasks include any task that takes us less than 30 minutes to complete and typically covers things like adding a testimonials section or a staff profile section to your website. These tasks do not cover advanced features such as a complete online shop or membership section.