Aside from web design and content marketing I do work with clients on various print products like business cards, letterhead, postcards and flyers.
I don't actively promote this side of my business because building websites and developing content for clients keeps me pretty busy.
BUT (and that's a big but), I always advise clients to invest in solid print products that are not only good looking, but are a reflection of their business.
The reason for this is because your business is unique. Even if there is someone doing something similar, there is a good chance that your are different.
Maybe it's your store's design and character. Maybe it's your customer service. Maybe it's you!
Whatever the case may be, you and your business are unique.
So, why are we still purchasing cheap generic business cards?
Out And About
I'm a work freak and certainly not normal. (Just ask my wife). I think about work too much and find it very hard to disconnect when I leave the office.
Unintentionally, I seem to always notice things that are related to marketing.
I'm the one who looks at billboards as art, not advertising. Instead of actually shopping I find myself looking at the signage design that hangs from store ceilings.
Just the other day my wife and I were walking through Target for the 4th time that week when I shouted, "Man, that's cool!"
My wife thought it was some product…. It was actually the product's packaging and the company's branding.
Dorky…I know 🙂
No matter where I go or what store I browse through I always try and connect with them. And I always try and start with the business card.
Why? Because your business card is an extension of you and it plays an important role is people's perception of you whether you like it or not.
Different Businesses, Same Card
I'm not normal so I think it's fair to say that you don't go around doing all the things I mentioned above.
And just because I do those things doesn't mean that I'm always looking for inspiration or something to talk about.
Sometimes these things just happen.
My wife loves cupcakes! She likes baking them and she also like winning them.
Yes, winning them!
She recently won a trivia contest (actually two) on Facebook that one of the cupcakery boutiques does each week.
Guess who had to go and pick them up? ME!
Upon getting the 12 mini-cupcakes I noticed their business card. It looked familiar to me so I kept it.
The next week I go and get my haircut. Like all barbershops and beauty salons, I had to wait. As I'm sitting in the lobby I look up and notice the exact same business card, except it's for the Spa that is inside!
Naturally, I picked one up.
Fast forward 2 weeks…
I had a few meetings one morning that ran until about 1:30pm. I had forgotten my lunch, so I went to a local restaurant to grab a burger.
While I am waiting for my medium-rare burger, I noticed their business card. Yep, you guessed it. Same design.
I get my burger and head back to the office.
I am walking down the hallway when it hit me. I know where I first saw that business card design.
There is a sales marketing team across the hallway that uses the same design. They moved out a few weeks earlier but that is where I first saw the design.
4 different businesses all with the same generic business card design.
Note: The names have been blurred to protect the innocent…because they are innocent.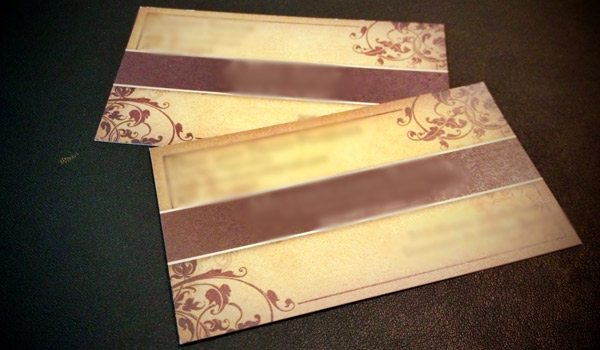 It's Not Their Fault
So what should we do?
Should we yell at them and throw stones? Maybe point some fingers because they didn't invest any time into their business card?
No! That's crazy! They don't know any better.
Print companies like VistaPrint have done such a great job at marketing that business owners don't think twice.
VistaPrint is affordable and for the most part, have ok designs.
I must say, there are pre-designed print templates that look extremely good, from very talented graphic artists!
My gripe is that if your business is unique, how can you use a generic template? It says nothing about who you are as a business.
How can 4 businesses in 4 different industries be the same?
Creating Consistency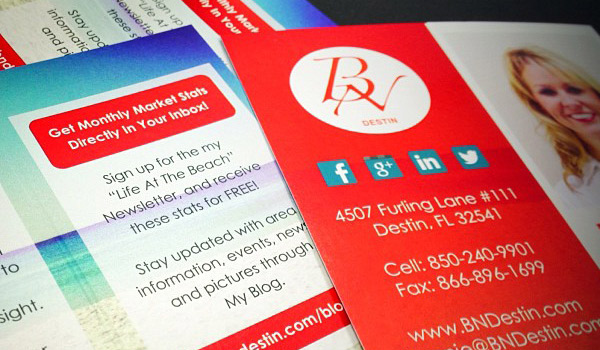 Realtor Bonnie Hall recently had her business cards redesigned. She went for a folded business card on 16pt stock paper.
We added all the necessary copy but I want you to pay attention to the colors and design. It's consistent with her business and her website.
When she hands her business card to someone she can be confident that her branding efforts are inline.
When that prospect visits her website and blog they will get a consistent brand message.
Investing In The Little Things
If your current business card falls into the "I picked it because it was cheap and fast" category then I encourage you to spend some time with a designer to layout something that really reflects your business.
When you drop your business card into a bowl at one of those Networking Raffles I want yours to stick out. 🙂
When you hand me your business card that card is now your "business representative".
It's time to invest in a good "business representative", and get rid of the cheap generic business card!